Ignition
Gen-C offers everything to do with ignitions and ignition control for stationary gas engines, including:
Ignition Systems and Conversion Kits
Complete Ignition Systems
One of our strengths is offering our customers system solutions instead of individual components. Our complete pre-assembled and factory-tested ignition systems permit a quick and easy assembly - this saves you time and money. Our test procedures, coordinated with DIN ISO 9001, ensure the quality of our products to guarantee trouble-free operation of your system.
Ignition Conversion Kits
Today, many older engines are still equipped with ignition systems which are no longer technically up-to-date. These normally mechanical ignition generators are subject to constant wear- and-tear, therefore the operation of these systems is often linked with high maintenance and repair costs. MOTORTECH offers complete conversion kits with the latest electronic ignition to anyone wanting to save future costs in this area.
MIC3 Motortech ignition Controller
This microprocessor controlled ignition system comprised of one 32 bit main processor and an output board. Designed for specific 2- or 4- stroke gas engines. To supply the energy required for the corresponding ignition coils of the gas engine and can supply signals for peripheral equipment.
MIC4 Motortech ignition Controller
The new economically attractive MOTORTECH development convinces with a future oriented electronical concept for more power and a significantly higher degree of efficiency. Based on the MIC4 series, MOTORTECH produces a special controller version as a replacement for the TEM-ZS1 and TEM-ZS3 ignition system used on MWM®/DEUTZ® gas engines.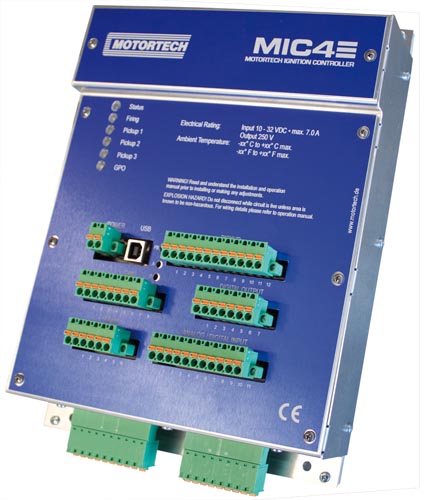 MIC4-ZS Ignition Controller
Designed as an exchange device, the MIC4-ZS enables a quick conversion without great effort. In addition to the MIC4-ZS ignition controller, the prepared conversion kits include the required high-performance ignition coils. Pre-chamber spark plugs or spark plug leads can be re-used, as these ignition coils have the same secondary connections as the original ones. The ignition coils – designed for MOTORTECH ignition controllers with MOST technology – guarantee the ideal performance support, especially when it comes to alternative combustibles with alternating or relatively low fuel value, e.g. biogas, mine gas, woodgas, sewage gas, landfill gas etc.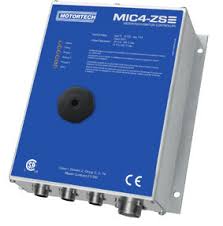 MIC5 Motortech ignition Controller
This microprocessor controlled condenser discharge ignition system which provides the ignition energy for gas engines with up to 16 cylinders. Designed for specific 2- or 4- stroke gas engines.
MIC500 Motortech ignition Controller
Microprocessor-assisted High Standard ignition devices MIC500 series for engines with 1 - 16 cylinders.
MIC850 Motortech ignition Controller
The 32 Bit Microprocessor Technology offers high flexibility. The MIC850 Series Ignition Controller is designed for Slow, Mid and High Speed Industrial Gas Engine Applications.
PowerView3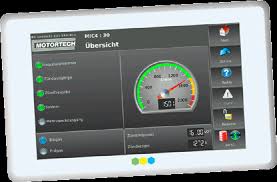 Ignition Control Visualization
The operating data of MIC3, MIC4 and MIC5 series ignition controllers will be completely visualized via HMI module (Human Machine Interface). The overview sheet shows the relevant information as engine speed, ignition timing and status of pickups, ignition outputs or active parameter set.
The PowerView3 also allows justification of various ignition parameters such as ignition timing and energy. Functions as the selftest for error diagnostics can also be executed via HMI module. The control keys guarantee simple navigation through different display pages and menus. All in all the PowerView3 HMI module is also able to provide error diagnostics on-site without requiring a laptop! The PowerView3 is also available for data visualization of:
• DetCon Detonation Control
• TempScan20 Temperature Scanner
Component PDF's: