Ignition Leads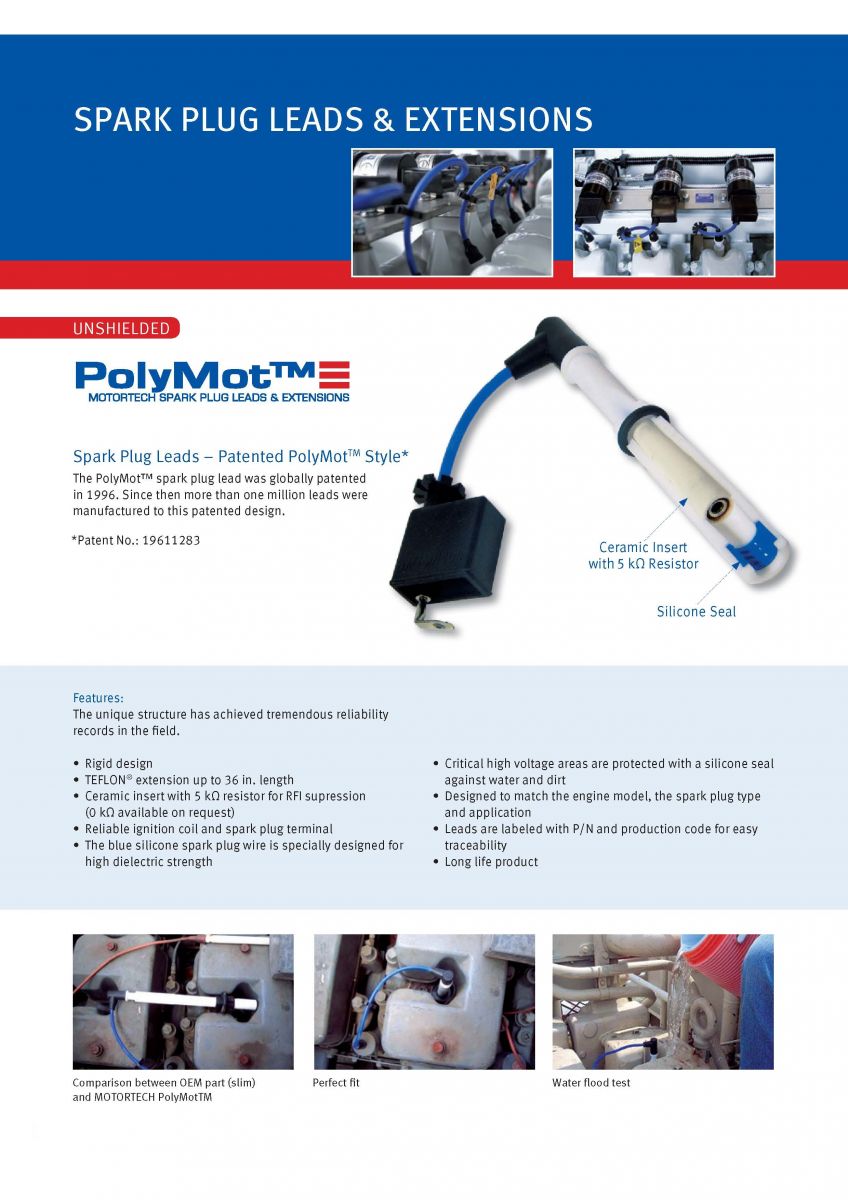 UNSHIELDED
PolyMot™
Spark Plug Leads – Patented PolyMotTM Style*
The PolyMot™ spark plug lead was globally patented
in 1996. Since then more than one million leads were
manufactured to this patented design.
Features:
The unique structure has achieved tremendous reliability
records in the field.
• Rigid design
• TEFLON® extension up to 36 in. length
• Ceramic insert with 5 kΩ resistor for RFI supression
(0 kΩ available on request)
• Reliable ignition coil and spark plug terminal
• The blue silicone spark plug wire is specially designed for
high dielectric strength
• Critical high voltage areas are protected with a silicone seal
against water and dirt
• Designed to match the engine model, the spark plug type
and application
• Leads are labeled with P/N and production code for easy
traceability
• Long life product
UNSHIELDED
PolyMot™
Spark Plug Extensions − Patented PolyMot™ Style*
Besides all the successful spark plug leads, MOTORTECH has also
designed a large number of spark plug extensions under the PolyMot™
patented design.
These extensions are unique and offer several advantages when being
compared to the OEM or aftermarket competition. With the knowledge
gathered in ignition control and coil manufacturing, a lot of the details
were implemented into these products.
Features:
The unique structure has achieved tremendous reliability
records in the field.
• Rigid design
• TEFLON® extension up to 36 in. length
• Ceramic insert with 5 kΩ resistor for RFI supression
(0 kΩ available on request)
• Reliable ignition coil and spark plug terminal
• Spring loaded secondary terminal to ignition coil
• Critical high voltage areas are protected with a silicone seal
• Designed to match the engine model, the spark plug type
and application
• Extensions are labeled with P/N and production code for
easy traceability
• Top thread for easy removal with special tool
• Long life product